Omkareshwar has been a sacred town located 77 km distance from Indore. The name is Omkareshwar got its derivation from the holy symbol of Hindus, 'Om'. The site is a pilgrimage center as innumerable people throng here due to several numbers of Jain temples and Hindu temples found here. The place is an Om-shaped island spotted on the confluence of the Kaveri and Narmada Rivers. This island remains divided into south and north through a deep gully and remains linked via a bridge. People find it quite interesting while taking a boat ride around the island in the Narmada River.
Omkareshwar is regarded as one of the most sacred Hindu sites in the country. It is because of the presence of Jyotirlingam (one of the twelve in the country). However, Lingam is regarded as the symbol of Lord Shiva but Jyotirlingam is a prominent one. It is referred to as the lingam of light and is believed to have been derived from power currents from within itself. The ordinary lingam has been ritually invested with the Shakti of mantra by the priests. The temple of Shri Omkareshwar Mahadev has been adorned with a Jyotirlingam enshrined there.
Also called as Temple of Shri Omkar Mandhata, it is composed of soft stone which may be availed locally. In addition, there are carving giving details in the front chamber. The wall paintings give a beautiful view. Millions of devotees come here to kneel before the Jyotirlinga to get blessings. Omkareshwar represents a mix of human and natural artistry and besides this, there are several other temples worth watching.
Siddhanath Temple has been an exemplary structure as far as classic Brahmanic-styled architecture of medieval times is concerned. The most appealing feature of this temple is the wall paintings in the shape of elephants which are 1.5 m tall carved on the stoned boundary. The gigantic Nandi Bull (called a vehicle of Lord Shiva) has been carved atop the hillside opposite Gauri Somnath temple having 24 Avatars along with several Jain and Hindu temples. Because of the immense beauty of the island as well as its religious significance, it draws several devotees.
What Is The History Behind Omkareshwar?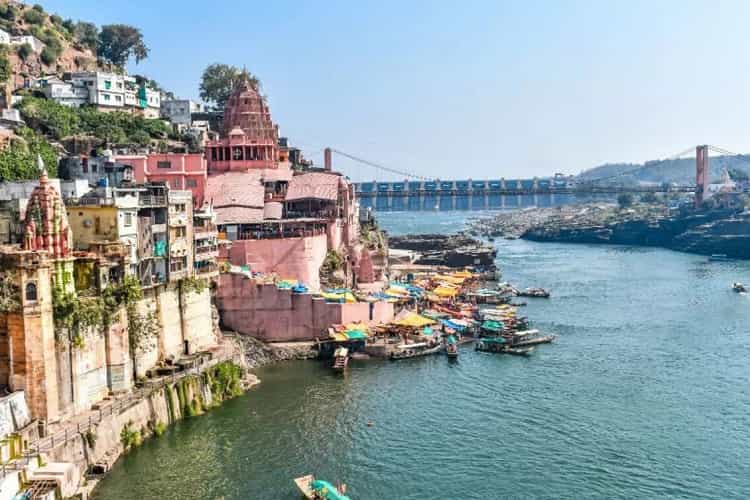 The Omkareshwar Jyotirlinga has an interesting historical significance. These three are regarded as significant. The premier story is regarding Vindhya Parvat i.e. once Narada, the son of Lord Brahma, who had been famous for his consistent cosmic travel went to Vindhya Parvat and in the form of his spicy gossip, he told Vindhya Parvat regarding the prominence of Mount Meru. It made Vindhya to be jealous of Meru and a decision was made by him to be bigger than Meru. Therefore, Vindhya began worshipping Lord Shiva and become greater than Meru. After lots of prayers, Lord Shiva got impressed and showered the blessings by granting his wish. When all the gods requested, Lord Shiva divided Lingas into two parts. One half is referred to as Omkareshwara while the other is known as Amareshwar. Lord Shiva granted the boon for growing and asked Vindhya to promise that he would never become a problem for the devotees of Shiva. Vindhya had begun to grow and didn't keep his promise and also obstructed the moon and sun. Eventually, all deities went to sage Agastya seeking help and he along with his spouse went to Vindhya and took a promise not to grow until the sage and his wife came back. It is said that they never went back and Vindhya is still there the way it was left. The sage along with his wife lived in Srisailam which is considered Dakshina Kashi and has been one of the Jyotirlinga of Dwadesh.
There is a second story of Mandhata and the penance of his son. King Mandhata belonging to the Ishvaku clan, was an ancestor of Lord Ram and was a devotee of Lord Shiva till Lord turned himself to Jyotirlinga. Few scholars explain the story of Mandhata's sons – Mucchkund and Ambarish practiced penance as well as austerities at this place and impressed Lord Shiva.
Another story from the Hindu scriptures explains the story of a great war between Danavas and Devas in which the ball went into the court of Danavas. It had been a prominent setback for Devas and therefore, Devas worshipped Lord Shiva who got impressed and emerged as the Omkareshwar Jyotirlinga to defeat the Danavas.
What Is The Architecture Of Omkareshwar?
The actual temple of Omkareshwar has been constructed in the North Indian styled architecture having high spires. The temple is a major attraction for the pilgrims. The history of the temple is not known. There is a sanctum sanctorum which has Jyotirlinga and appears like a small temple having old-styled construction having a dome exhibiting stone slabs and layers. Because this temple is nearby of the embankment of Narmada in the south, the extension looks like new styled construction, and therefore the sanctum sanctorum as well as the major deity are not found in front of the major door and nor below the taller conspicuous Shikhar which is the tower constructed later. Omkareshwar has the deities of Lord Mahakaleshwar, Dhwadhadhari Shikhar, Gupteshwar, and Siddhanath. The beautiful architecture of the Omkareshwar temple has always fascinated devotees from several parts of the country. There is a blend of old and new-styled architecture with which the temple has been adorned.
Check Out – Ujjain Omkareshwar Tour
What Is The Puja Timing Of Omkareshwar Temple?
In Omkareshwar Mandir regular Puja and Seva of deity are beings performed for centuries in the same ways. Timings of Pooja and Darshan may change during Festivals and Special Occasions.
The Schedule for Puja and Darshan is as follows.
| | | |
| --- | --- | --- |
| Days | Darshan/Aarti/Pooja/Abhishek Timings | Hours/Timings |
| Monday to Sunday | Mangala Aarti & Naavidya Bhog | 05:00 |
| Monday to Sunday | Jyotirlinga Darshan & Abhishekam | 05:30 to 12:20 |
| Monday to Sunday | Madhyan Bhog | 12:30 to 13:10 |
| Monday to Sunday | Jyotirlinga Darshan & Abhishekam | 13:15 to 16:00 |
| Monday to Sunday | Evening Darshan | 16:00 to 20:30 |
| Monday to Sunday | Sleeping & Sayana Aarti | 20:30 to 21:00 |
| Monday to Sunday | Sayana Darshan | 21:00 to 21:35 |
Omkareshwar Accommodation
Omkareshwar is a small city where pilgrims visit for the Darshan of one of Lord Shiva in one of the Jyotirlinga forms. Though, this place is yet to be explored for tourism; there are over 50 dharma-shalas and several ashrams which provide accommodation facilities to pilgrims. However, it may be noted that none of these Dharmashalas or hotels or Bhakta Niwas is maintained by the temple trust.
Shri Gajanan Maharaj Sansthan Bhakt Niwas and MP Tourism Narmada Rest House are two options that provide accommodation at reasonable price tags, which are recommended and trusted as well. There are many other lodging and boarding facilities including a/c rooms and restaurants.
Omkareshwar Festivals
Many festivals are celebrated at Omkareshwar, the temple in Madhya Pradesh which is celebrated as per the Hindu calendar. Karthik Festival includes the Panchkroshi Yatra in Karthik Month and is combined with an organizing fair for weeks. Mahashivratri is yet another celebrated festival that marks the wedding of Lord Shiva and Parvati and falls in the month of Falgun. This is celebrated with special pujas and with majestic fervors by devotees from all over India. Other festivals celebrated here are the Narmada Jayanti in Magh month and Bhutni Amavasya is celebrated twice a year, once in Ashwin and second in Chaitra month every year.
How To Reach Omkareshwar Temple?
By Air: The closest airport of Indore is 77 km distance from the shrine and remains connected to Mumbai, Delhi, Gwalior, and Bhopal with regular flights.
By Train: Closest railhead is Omkareshwar Road found on the section of Ratlam-Khandwa under Western Railways.
By Road: Omkareshwar remains connected to Ujjain, Indore, Omkareshwar, and Khandwa through regular bus services which include Volvo buses as well as private buses.
What Is The Best Time To Visit Omkareshwar?
Omkareshwar has been a beautiful place adorned with an island that remains embraced by a branch of Narmada, Kaveri in the North while the holy Narmada River in the West of the state of Madhya Pradesh. People visit there throughout the year however from August to March, the weather is pleasant for visiting the holy place. At the time of festivals in February, August, October, and November, the place is crowded having a large number of devotees from different parts of the country for a holy dip in rivers. There is Mahashivratri in February where the place remains crowded and the worship of Lord Shiva is done with great enthusiasm. There is no shortage of water here as the flow gets controlled by close by the dam and therefore it may be visited by tourists round the year. The place always remains occupied by the several devotees coming here to get blessings from Lord Shiva, the Hindu god.