Sri Lanka is very well known for being one of the best and most exotic wildlife destinations in the world. Boasting a stunning landscape made up of swamps, forests, mangroves, Dry Shrubland, and grassy plains, Sri Lanka is every wildlife enthusiast's dream come true. Although small in size, the island nation of Sri Lanka is home to about 26 different national parks making it one of the most interesting places to explore diverse wildlife in Asia.
This is the reason why you may encounter a massive collection of animals, reptiles, insects, and birds during a regular visit to the island as well. If you are someone who admires nature and are willing to explore more of it, then check out these incredible wildlife experiences that await you in Sri Lanka:
Leopard Sighting at Yala National Park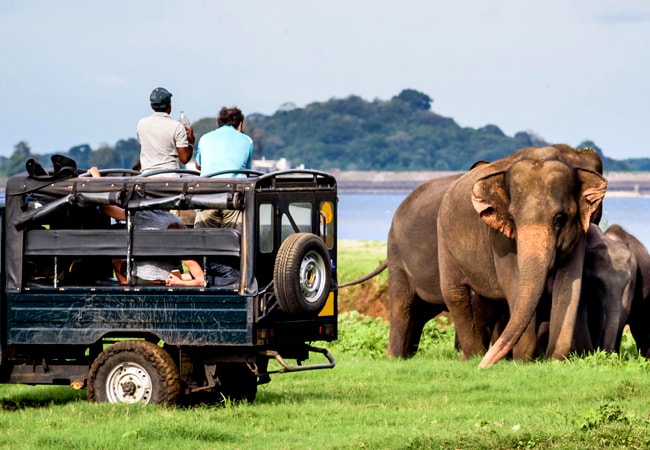 Nestled within the southeastern corner of Sri Lanka, Yala National Park is the island's most important national park. The national park is home to a huge diversity of flora and fauna along with an incredible selection of birdlife. The density of the leopard population in the park makes sightings a regular occurrence. Yala is an extremely popular destination for leopard sightings along with the sightings for much other flora and fauna. Other than leopards visitors can also spot crocodiles, elephants, and water buffaloes in the lakes and other water body sources. Along with regular leopard sightings, the Yala coast is also famous for being a nesting ground for sea turtles, Olive Ridley turtles among others.
Best Time to Visit: Yala can be visited all year round but June to September is the most comfortable time to visit along with having high chances of leopard sightings.
Sloth Bear Sightings at Wilpattu
Sloth bears are known for their elusive nature and their tendency to enjoy nature in secrecy. However, the chances of sloth bear sightings are a lot more at Wilpattu National Park. Did you know that Wilpattu National Park is the largest national park in Sri Lanka? It is also one of the oldest and most well-protected areas in the country. During the dry season that lasts from January to August the chances of sighting or witnessing a leopard increase tenfold. Not only is this national park a great place to check out the leopards and sloth bears but it is an ideal destination for wildlife photographers and nature lovers to take some of the most stunning pictures imaginable.
Best Time to Visit: August to September is the best time to visit which is just before the arrival of the northeastern monsoon rains.
Minneriya Elephant Gathering
Sri Lanka is famous for being the home breeding ground for different types of elephants. Visiting Sri Lanka during the annual Minneriya elephant gathering is definitely an experience of a lifetime. Contrary to being a migration process, this is an annual gathering of elephant herds that come from as far as Kantale just to sip water and spend time together as one. The sole motivating factor for this gathering is water. You can witness in quiet serenity the animals in their utmost peaceful environment, drinking the freshwater, snacking on the nearby grasses, and lazing it out in the afternoon sun. It can be described as a calming fiesta for Asian elephants.
Best Time to Visit: The best time to witness the elephant gathering at Minneriya is during the months of May to September.
Whale Watching In Mirissa
If you have an image of Sri Lanka in mind, then it definitely includes an expansive coastline filled with thriving sea life. From stilt fishermen to people surfing on the crashing waves, the sea life in Sri Lanka is equally majestic and exotic. If you are a water baby and someone who loves to explore the open seas, then going whale watching in Sri Lanka should be one of the things that you must experience. Mirissa in Sri Lanka is the prime destination for whale watching and underwater snorkeling. Setting off from Weligama bay dolphin and whale watching is a uniquely memorable experience where you can catch the sight of a blue whale, sperm whale, and even a humpback whale.
Best Time to Visit – The highest chances of spotting whales or dolphins can be from December to April.
Birdwatching in Bundala National Park
If you like spending hours looking at the sky and admiring the colorful beauty of international migratory Birds then a visit to Bundala National Park for a bird watching trip is just the thing you need. Harboring close to 200 different species of birds from all over the world, the national park is frequented by bird admirers and nature lovers alike. A great place for a family to spend a day Bundala is the perfect destination. Owing to its impeccable selection of flora, fauna, and birdlife, it has been deemed as a UNESCO biosphere reserve. Flamingo is one of the most easily spotted birds here. The national park is dotted with salt pans, brackish lagoons, and watering holes which serve as the perfect stoppage point for migratory birds from all over the world.
Best Time to Visit – September to March are the perfect months to go bird-watching in Bundala National Park.
Boat Safari in Gal Oya
You may have heard of jungle safari and wildlife safari but a boat safari is definitely something you must try during a visit to Sri Lanka. The Senanayake reservoir is the largest water body of its kind in Sri Lanka and is home to a huge collection of aquatic life and a watering hole for elephants. The boat safari will take you on a unique breathtaking safari along the edges of the Gal Oya National Park. Asia's gentle giants and other animal life are supported by these waters which you will be able to check out during the boating safari as well. From witnessing an exotic selection of birdlife to mammals and reptiles, the boat safari will be an extremely serene and fulfilling experience.
Best Time to Visit: For the most frequent sightings of the wildlife within the national park the months of June to December is the most appropriate.
Sir Lanka is a treat for people who love exploring the great outdoors. The unique geographical and relief features of this island nation make it truly a one-of-a-kind experience.
Suggested Posts
10 Devi Temples in Uttarakhand
Best Places to Visit in Agra
Things to Do in Dwarka and Somnath
Things To Do In Darjeeling