First comes marriage then comes the honeymoon. After a hectic wedding celebration, every couple deserves some time off from the rest of the world and spend some much-needed quality time. Lazing it out at paradisical beaches, exploring new cultures with your life partner, and creating new memories of a lifetime is what makes a honeymoon truly memorable. Traveling with your partner writes a new and unforgettable chapter in your life. From bonding over exotic cuisines and indulging in fun adventure, that's what dreamy, movie-like honeymoons are made of.
Here are the top 10 adventurous honeymoon ideas:
1. Oahu, Hawaii
Oahu is the third-largest Hawaiian island and is bursting with beautiful beaches and stunning five-star hotels, but leave the relaxing for another couple! Go scuba diving with a difference, and explore the sunken wrecks of WWII airplanes and ships which are scattered around the pristine Hawaiian waters. This not only gives you a unique diving experience but it also offers a special habitat for a huge variety of aquatic creatures to live in.
2. Colorado, USA
With simply spectacular scenery thanks to the Rocky Mountains, going to Colorado will ensure that you have plenty of adventures. Vail is one of the most well-known skiing resorts around the Rockies and it is perfect for beginners and advanced skiers thanks to the super powdery snow. White water rafting along the Colorado River is a fantastic action-packed idea for you and your honey to do together whilst on your honeymoon.
3. Argentina
It is too hard to specify just one part of this spectacular country to go to on your honeymoon. Dance the Tango in Buenos Aires, and taste some of the most delicious wines accompanied by succulent beef, one of the country's biggest exports. Head to the mid-west of Argentina to Lahuen eco-lodge for some deep relaxation in their thermal spas, where you must also try the algae and water tubs.
4. Rio De Janeiro, Brazil
Rio is the host of the next Olympic Games in 2016, experience this fantastic city before all the crowds and have your own Brazilian adventure. Go to the top of Sugar Loaf Mountain by cable car and see the huge iconic Christ the Redeemer statue across the two peaks. For a truly Brazilian experience why not go to Rio in February when the Carnival is on (known as Fat Tuesday) to celebrate your marriage at the biggest party in the world?
5. Rincon De La Vieja National Park, Costa Rica
In the North-East of this amazing South American country, the Rincon De La Vieja National Park is the absolute perfect place to spend some of your honeymoons. The Volcano within the national park rises 6,061 feet into the Costa Rican sky, geysers and fumaroles litter the peak and offer a unique trekking experience. Why not stay at the Four Seasons from where it's only a two-and-a-half-hour drive into the rainforest? You get the action and adventure; and also a little luxury, it is your honeymoon after all!
6. Dubai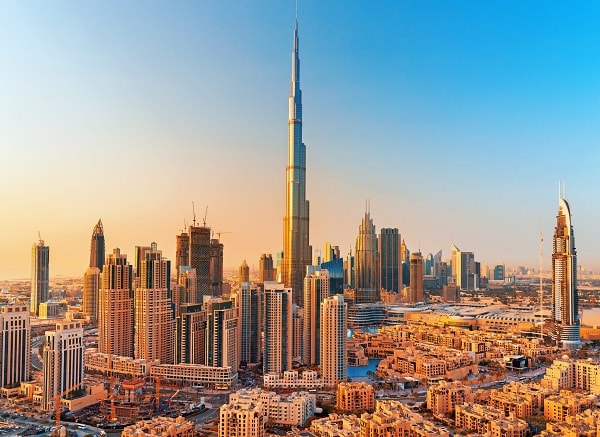 Dubai is the height of luxury and relaxation in the East and is also a destination of one of the honeymoon cruises from Azamara. Go to the top of the 2,717 ft. high Burj Dubai, the tallest free-standing building in the whole world. Visit the historic spice markets and souks, including the amazing Gold Souk which is a world-leading retailer of gold items in all shapes and sizes, all of these experiences are included in the Dubai Tour Packages from Delhi. There are so many different sports to try in Dubai, from golf to swimming with dolphins (OK, perhaps not quite a sport but still lots of fun)!
7. Delhi, India
The Taj Mahal is a stunningly intricate structure that was built on the orders of an Indian dignitary for his wife as a declaration of their love. Have your photo taken among the glittering tiles and enjoy your own romantic moment together. A great way to see much more of India is to go on the Royale Indian Rail Tours' Maharaja's express, an eight-day sojourn among some of the most beautiful ancient structures and lush green Indian forest, all whilst in a luxurious setting.
8. New Zealand
A fantastic honeymoon experience is to go whale watching in the south of the southern island; it's a great way to see the most majestic creatures in the world in their natural habitat, a true once-in-a-lifetime experience. In the centre of the North Island is Tongariro National Park with some truly breathtaking views, there are some amazing hiking trails around the area, just make sure you are prepared, with water, food, and good footwear.
9. South Australia
This country is huge and expansive with some states completely deserted and absolutely boiling, in the south of the country, there are a number of must-sees. Sydney is one of Australia's most iconic cities, with the amazing Sydney Opera House and beautiful pristine beaches. Head to Adelaide, for glorious wineries and no doubt plenty of wine-tasting opportunities, a ferry link away from here is the beautiful Kangaroo Island which has diverse wildlife including sea lions and the iconic kangaroos. If you head here you must stay at Kangaroo Lodge, a luxurious 5-star accommodation experience with beautiful views; the absolute perfection in honeymoon locations!
10. Cayman Islands
With three islands to explore, Grand Cayman is the biggest and has everything adventurous honeymooners could want. You can relax on a seven-mile beach along the west side of the island, sunbathing on the beautiful white sand beaches, or you can go parasailing, surfing, and water skiing to get the adrenaline flowing. Fishing is also a popular activity here and the size and variety of the fish make it a must-try activity for the more adventurous.