The city of a holy death. The city where Death dances His Tandav at every juncture. The city one flocks to, to receive death gracefully. The city wherein death is welcomed, even wished for, embraced at. For death in the city assures salvation. Or so a culture, a people believes. Welcome to Varanasi aka Banaras aka Kashi!
The city of Varanasi appears as old as it is; none puts it better than Mark Twain, "Benares is older than history, older than tradition, older even than legend, and looks twice as old as all of them put together." This does not come as a surprise for a city whose extracted artifacts have been estimated to date back to eleven centuries before Christ and is obviously credited as one of the oldest inhabited cities of the whole world.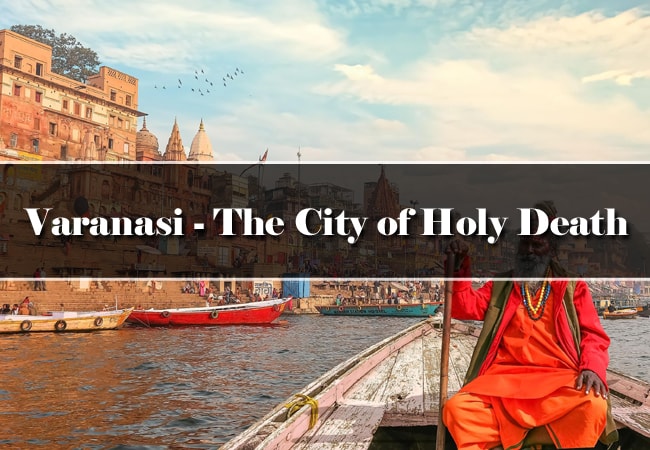 Varanasi Travel Guide
History
Legends cite Lord Shiva Himself as the progenitor of the city. Not only does the city teem with spiritual significance for Hindus, Sarnath, located in the outskirts of the city, is blessed to have witnessed the first blossoming of the highly revered Buddhist Tradition. In fact, it was here that Lord Buddha gave his first sermon on "The Setting in Motion of the Wheel of Dharma" around 528 BC. The city also found its mention in the accounts of renowned Chinese Traveller Xuanzang in the 7th century. In the 8th century, Adi Shankara founded Shaivite tradition as the official sect of Kashi.
The medieval period saw the city reinstating its position as a hub for intellectual, theological, cultural, and religious discourses. That both Kabir and Ravidas, celebrated mystic saints and poets of the Bhakti movement, were born and lived in its streets is a fact Banaras can boast of in any historical exposition. Mughal India saw the benevolent Emperor Akbar building two of its most magnificent temples dedicated to Lord Shiva and Lord Vishnu. This dynasty governed area from the era of Mughals was annexed to the Indian Republic following the nation's independence from British Raj in 1947.
Climate
The typical template of a human subtropical climate reigns over the city's weather chart with its excessively hot summers and very cold winters. The summer months of April-June receive particularly scorching sunlight, followed by the relieving rainfalls that monsoon downpours bring during July-October. While temperatures drop as low as 5 °C during winter nights owing to the cold winds blowing from the Himalayas, the hot dry winds called loo ravaged city life in summer. The decreasing water levels of Ganga along with the exorbitantly alarming pollution levels of its holy waters are matters of serious environmental and cultural concern.
Best Time to Visit
Well, the city can be visited throughout the year, but for those who plan their visit in-between months of October and March, the city offers one of her more soothing forms. Though, one should still arrive prepared with sufficiently layered warm clothing for the cold nights.
Geography
The city is built on the banks of the ethereal Ganga River. It is strategically located with easy connectivity to all the nearby important centers including India's capital at Delhi (797 km). The city finds itself nourished by its placement on the fertile Indo-Gangetic plains. Two rivulets, namely Varuna and Assi merge with the waters of Ganga, at Varanasi. In fact, the very name 'Varanasi' has been attributed to it witnessing the confluence of both Varuna and Assi with Ganga in the city. Hindus traverse the 2 miles distance between the two confluences and Adhere great religious significance to the journey which concludes at Sakshi Vinayak Temple.
Festivals
The most prominent of the festivals celebrated in all its grandeur include Mahashivratri of Mahamrityunjaya Temple and Kashi Vishwanath Temple, along with Hanuman Jayanti of the Sankat Mochan Hanuman Temple. The musical festivals of Dhrupad Mela and Sankat Mochan Sangeet Samaroh are the other major highlights of the city's calendar for festivities.
Ramlila, enacting the dramatic portrayal of Lord Ram's tale as per Ramcharitmanas for 30 days, is a very celebrated event in the city. One might find it interesting to note that the 16th-century epic poem was composed by Saint Tulsidas along the very Ghats of the city.
Other prominent Hindu festivals of the city include Nag Nathiya (Oct-Nov) commemorating Lord Krishna's victory over the Kaliya serpent and Bharat Milap celebrating the anniversary of the heartfelt reunion of King Dashrath's sons Ram and Bharat after the former's exile for 14 years. Major festivals observed by Muslim brethren of the city include Ramzan, Muharram, Bakrid, Mid-Sha'ban, Bara Wafat, and Ghazi-Miyan-Ka-Byaah.
Car Rental
One can easily find car services for rent. But the city is best traversed by foot or on its many abundant cycle rickshaws owing to the particularly narrow width of its many lanes. Also, the congested traffic flow makes traveling via four-wheelers very difficult.
Things to do
Bathing in the holy water of the Ganges is the most popular religious activity in this holy city. The present sorry state of affairs concerning its water contamination poses hazardous health risks though. That does not deter a flock of almost 60,000 devout to take their holy dip in the River.
Make sure that you indulge in the enchanting boat rides which offer the very beautiful sunset and sunrise views from the holy waters of Ganga. The trail starting from Dasaswamedh Ghat to Manikarnika Ghat and its return course after the due hours of sunset is an experience to relish during evenings. One can even come across musically gifted boat drivers who create the perfect rhythmic ambiance against the backdrop of Ganges as if lifted straight out of a Bollywood phantasmagoria.
Exploring the narrow gullies of Banaras intimates one with the heartbeats of the city. Imbibe the unique fragrance of the city, one in which Death suffuses its unique sense alongside the teeming colors of life.
Temple Timing
The spiritual cadence evoked by Kashi Vishwanath Temple start early by 3.00 am in the morning with Mangala Aarti and culminates with Shayana Aarti at 11.00 pm.
Places to Visit
Ghats: The Ghats strewn across the banks of the river offer themselves as the sites for spiritual absolution to its pilgrims. Thousands herd at the stone-laid slabs that lead them to the waters of the Holy River to let Her take away their wrongful karmic stains. Many Puja ceremonies are conducted along its banks; Ganga's murmuring waters are said to amplify their spiritual and metaphysical potency. Visiting the fuming cremation grounds that a few Ghats are exclusively used as is not to be attempted by the faint-hearted. In fact, Varanasi develops a certain sense of detachment/Vairagya in those who open themselves up to receive the gifts of this city where death is revered.
The Dashashwamedh Ghat holds utmost religious significance owing to the daily 'Agni Pooja' that is conducted here every evening. The Pooja offers its oblations to Lord Shiva, Ganga Maiya, Surya God, Agni Devta, and the entire cosmos. One ought not to miss the special Aarti conducted here on Tuesdays and religious ceremonies. The Manikarnika Ghat is famed to be the most revered of all cremation grounds, the Mahasmasana in this city of gazillion cremation grounds. This current Ghat's structural embankment was built as early as 1302, although it had undergone three consequent renovations.
Panchganga Ghat wherein five rivers meet together, Kedar Ghat with its brightly painted photogenic ambiance, Harishchandra Ghat with its mythic history of having been Raja Harishchandra serving ground, Tulsi Ghat with its large water purification plant, and Assi Ghat replete with its internet cafes, hotels that cater to modern tourists, etc., are a few other Ghats that deserve special emphasis.
Temples: Did you know that Varanasi contains about 23,000 temples in her mantle? No wonder the city finds itself referred to as the 'city of temples and the 'religious capital of India'?
An information directory of temples in Varanasi cannot begin elsewhere other than at the Kashi Vishwanath site. The present temple structure was built by none other than Queen Ahilya Bai Holkar. In fact, a famous Ghat in Banaras is named after her. One must be astonished to find out that the temple's pinnacles are built entirely of gold which was donated by Ranjit Singh, the erstwhile ruler of Punjab province.
The temple dedicated to God Hanuman, namely Sankat Mochan Hanuman Temple, built along the banks of Assi River was constructed by Pandit Madan Mohan Malaviya, a prominent figure of Indian Independence. Local folklore has it that bhakti saint Tulsidas received the Darshan of Lord Hanuman at the same site.
Two magnanimous temples worship Goddess Durga in the city – Durga Kund and Durga Mandir. The Durga Kund Temple, built in the eighteenth century, is constructed as per Nagar Architectural style and its red-stained multi-tiered spires represent the primordial power of Shakti. There also exists a temple dedicated to Annapurna Devi, quite adjacent to Kashi Vishwanath Temple's premises. Well, with more than 23,000 temples within its contours, one can go on listing and it would never come to an end.
Did you know that Banaras holds a venerable interest for its Jain pilgrims too? In fact, the seventh and twenty-third of Tirthankaras, Suparshvanatha and Parshvanatha, are said to have been born in its holy soils. One cannot help but marvel at the spiritual sanctity of this place that blooms so many spiritually oriented souls across the tethers of time. The Jain Ghat or Bachraj Ghat houses three Jain Temples. The temple dedicated to Tirthankara Suparshvanath is the most ancient among them. The Parshwanath Jain Temple dedicated to 23rd Tirthankara is not to be missed if you intend to imbibe the whole of the city's spiritual heterogeneity and complexity.
Sarnath: Those interested in Buddhist tradition and its genealogy cannot afford to miss visiting Sarnath, the site where Lord Buddha is famed to have given his first sermon to a group of his former ascetic friends. The museum in Sarnath is also very popular among visitors. It is amazing that just ten kilometers away from the hustle-bustle of the religious capital of India lies such a quaint ground that evokes inner quietude and spiritual serenity. The location finds itself referred to as Deer Park too. One comes across many Buddhist temples constructed by many Asian countries at Sarnath, each built along with its own indigenous architectural site.
Mosques: Varanasi has about fifteen historically significant mosques. Among them, Gyanvapi Mosque and Alamgir Mosques are the most famous. Gyanvapi Mosque's architectural construct resembles that of the Taj Mahal.
How to Reach & Location
Varanasi is easily accessible by road, rail, and air. In fact, there is a direct flight connecting Varanasi and New Delhi. The airport namely Lal Bahadur Shastri International Airport is located at Babatpur, a mere 26 km from the major city center.
There are four major railway stations within Varanasi – Varanasi Cantt Railway Station, Manduadih Railway Station, Varanasi City Railway Station, and Mughalsarai Junction Railway Station. Many trains plying between the city and other major centers in Delhi make travel to Varanasi very convenient. Head on to the IRCTC website for further information on the train schedule.
National Highways 19, 28, and 31 connect Varanasi to Kolkata-Kanpur-Agra-Delhi, Nepal-India border, and Unnao respectively making it easily conveyable by road too. Within the old city, auto-rickshaws form the most employed means of communication while taxes and buses move along its external borders. There have also been supposed proposals for the construction of Varanasi Metro recently.
It is highly advisable to fix the rates well before the journey begins and adhere to the standardized rates if one hires a private vehicle for transport.
Where to Stay
Taj's The Gateway and Nadesar Palace, Rashmi Guest House – A palace on the River, Radisson, Surya, and Ramada Plaza JHV are some of the Star Hotels. Also, a plethora of options exists in Banaras offering provision of accommodation at lower budgets. Let us just say one will not face any dearth of accommodation at a reasonable price range. While most tourists prefer staying next to Ghats overviewing the river banks, some prefer to put up near the railway station premises. Those who prefer a noiseless ambiance opt to stay near Sarnath, a 75-minute drive from the city.
If you opt for affordable accommodation within the city, make sure that its power supply is backed up with a generator, as a means to avoid inconveniences due to frequent power failures during the summer days. Also, the 'free' morning & evening rides advertised by certain accommodation facilities levy charges on their return journey, the 'free' status being applicable only for the one-sided journey.
Where to Eat
One cannot miss relishing in the mouth-savoring flavors of Banarasi Khana. Of all the local delicacies, Banarasi Dum Aloo is a must-try dish for its preparation entails a different preparatory recipe. Banarasi Street Food is such an indulgence for foodies!
Well, if you are familiar with Bollywood hullabaloo it is rare that you haven't come across the sensation that Banarasi Paan is. If Paan is one of your indulgences, do not forget to try it.
And we have saved the best for the last – Banaras Rabdi Malai is as good as it can ever get!
Some of the popular eateries are Madhur Jalpan (famous for their Laddoos), Shiv Lassi Bhandar, Shree Café, Kashi Chat center, Vishnu Tea emporium. Banaras has such a multitude of restaurants that cater to all budget needs that one faces no dearth of choice here. Head in any direction, and you will be greeted with an array of food outlets that promise to tease your taste buds.
Free travel tips and Expert Advice
One is advised to respect the sentimental value and religious sanctity associated with cremation rituals. Thus, it is best to avoid photography whilst the ceremony is going on, and never from its vicinity.
Do not fall prey to the many local touts that demand money in exchange for photography of cremation. Families engulfed in the grief over losing a beloved one would most probably never accept money in return for 'not minding'.
Also, utilize one's discrimination before giving in to somebody's claims of a spiritual superiority, 'Guru' Dom, etc. If the issue persists, alert the concerned authorities. Know those true sadhus do not stalk or manipulate anyone.
Make sure the sandals you wear are easy to take off, one stumbles a temple at every juncture.
Women need to be especially assertive in public places. There is nothing to be alarmed of, but the city reports various incidents of 'eve-teasing' and groping, especially of foreign women. Thus, exert adequate caution, use your Intuitionary impulses before trusting strangers, and be assertive. One must have the physical and emotional wherewithal to raise one's voice and attract the attention of other passers-by if one comes across any unassuming gesture.
Other interesting Places to See
There is a functional Jantar Mantar, resembling the ones at Jaipur and Delhi, constructed above the Ganga's Ghats, situated quite close to Jai Singh II palace, Dasaswamedh Ghat, and Man Mandir. This sun-dial observatory forms a popular tourist destination.
The Ramnagar Fort, situated opposite the Tulsi Ghat, built by Kashi Naresh Raja Balwant Singh adorns the eastern bank of the Ganges River. It embodies the sheer elegance of Mughal architecture. The museum that forms a part of the entire composite and Saraswati Bhavan with its huge collection of religious writings and Mughal miniature paintings add to its sheer beauty.
Video
Our experience
It appears futile attempting to translate into words the sheer complexity, rampant heterogeneity, and divergent beauty the paradox that is Banaras evokes. Well, what else can one expect from the abode of Lord Shiva Himself? The three aspects of the Universe- creation, preservation, and destruction, intimately interlinked with one another- rests upon his incessant inward meditation, in whose infinite realms he dwells free, absolute, and omniscient. Varanasi has a similar effect on a spiritually inclined mind; it acts as a catalyst to free one's mind from its ceaseless obsession with the mere sheen of material glory alone. Banaras definitely impels one's attention inward, towards the real dwelling place of the Divine to acquaint one of its real nature, that of the 'atman'. Banaras speaks to you on many levels; you must see for yourself how it opens your heart towards the Divine. As for me, it did strip away the many layers of obtrusive layers that hid true Soul realization. Hopefully, Varanasi gifts this and much more to you on your next visit!
Suggested Posts
10 Devi Temples in Uttarakhand
Best Places to Visit in Agra
Things to Do in Dwarka and Somnath
Things To Do In Darjeeling
Best Wildlife Experiences in Sri Lanka