Auli can beat Switzerland any day with its mesmerizing natural beauty. And, this is not an exaggeration at all! You can breathe out a sigh of relief that now you don't have to burn holes in your pockets to visit Switzerland when the best is here in your own country itself.
There was a time when at least one song sequence of popular Bollywood movies was shot with the spectacular Swiss Alps as background. The heroine crooning in chiffon saree and the hero all dressed up with woolens throwing an appreciative glance; God knows better if it was the saree or her crooning that attracted his admiration. If ever any director wants to recreate that classic scene, he may consider Auli for that matter. The producer will love him for sure!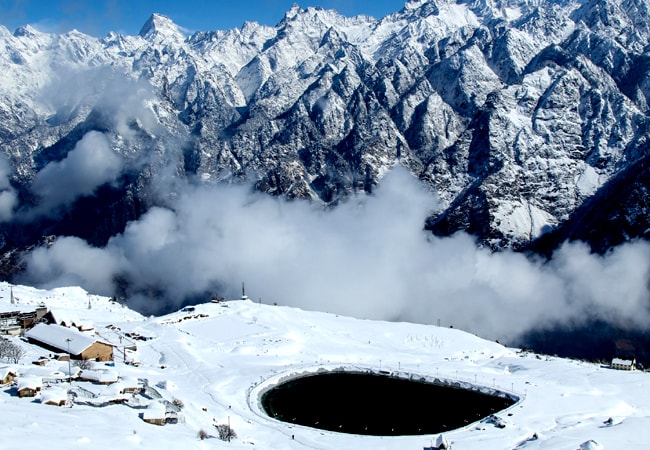 Auli is perched high at an elevation covering 2,519 m to 3,050 m. It is situated in the Garhwal region, in the Chamoli district of Uttarakhand. Auli takes a special place for the winter holidays in Uttarakhand. In winters, the lush green meadow is blanketed with white sheets of snow. In Uttarakhand Auli trip it is generally all about snow and skiing. Auli tourism depends mainly on the breathtaking snow-white view and the winter sports in Auli. Numerous snow-lovers gather here from all corners of the country and the world. It is a popular ski resort and skiing in Auli is vouched by the tourists as a memorable experience to be cherished for a lifetime.
Auli – The Place Little Switzerland of Uttarakhand
How to Reach
By Air: The nearest airport is Jolly Grant airport at Dehradun, about 286 km away from Auli. Regular flights connect it to Delhi. Taxis are available from the airport to Auli.
By Rail: Nearest rail station is Rishikesh which is 264 km away from Auli. It is a small station so Express trains don't have any halt here but it is well connected to the major stations of India.
By Road: Well-connected roads link Auli to other major destinations of Uttarakhand like Rishikesh, Haridwar, Rudraprayag, Karnaprayag, Ukhimath, Chamoli, etc. Buses and taxis regularly ply on these roads.
By Cable Car: The cable cars provide another way of transport from Joshimath to Auli. In winters, it is the only means of transport from Joshimath to Auli as the roads get covered in snow.
Weather
The weather is moderately cold with the winter temperature varying from -4 degrees to 10 degrees Celsius and the summer temperature ranging between 7 degrees to 18 degrees Celsius. December to February remains very cold and requires heavy woolens for outdoor activities. It is the best time for skiing and other winter sports. The summer, monsoon, and pre-winter are good times for honeymoon couples. The picturesque lush green meadow and the snow-clad peaks create a dreamy ambiance perfect for honeymooners.
Sightseeing
Listed below are some of the notable tourist spots in and around Auli.
Chattarkund: It is a sweet water lake rimmed by dense pines situated about 1 km away from Gurso Bugyal.
Vanshinarayan Kalpeshwar: It is situated 12 km from Joshimath, a beautiful cave named Kalpeshwar. Vanshinarayan is another 10 km from Kalpeshwar.
Saildhar Tapovan: It is a beautiful small village amongst the hilly woods and known for a temple and a hot spring.
Chenab Lake: The Lake rests in the idyllic Dang village, the last village of Joshimath. The terrains are rough, so it does not see much of tourists.
Trishul Peak: Standing tall with an elevation of 23,490 ft approximately, Trishul peak is a major tourist magnet. The ITBP patrol force practices its drill here. It is also considered the friendliest ski trail.
Bhavishya Badri: The Panch-Badri shrines are Badrinath, Yog Dhyan Badri, Adi Badri, Vriddha Badri, and Bhavishya Badri. It is a local belief that in the future the Badrinath shrine will become inaccessible and He will be worshipped in Bhavishya Badri only.
Winter Ski Resort
January to March is the best time for skiing in Auli. It is an important resort for amateur as well as expert skiers for it provides the perfect slope for skiing with the conifers working as a guard-screen from the windy gusts.
Gurso Bugyal: 'Bugyal' actually means meadow. Gurso Bugyal offers a splendid Himalayan view of Nanda Devi, Trishul, and Drona Parvat. It has mixed vegetation of oaks and conifers.
Joshimath: It is known for being established by Adi Guru Shankaracharya to revive Hinduism. It has many ancient temples dating back to the 8th century and earlier.
Vishnuprayag: It is the confluence of two holy rivers Alkananda and Dhauli Ganga.
Accommodation
Apart from some budget hotels on Joshimath-Auli road, the two major hotels at Auli are Clifftop club and the GMVN Tourist complex.
Fairs and Festivals
The most notable is the winter game ceremony that is held during the months of February and March. Auli even played the host of the first SAF winter games in 2011.
Shopping
Auli does not offer much regarding shopping as it is more of an adventure spot. Artifacts, souvenirs, woolens, etc. can be found in Joshimath.
Cuisine
Typical Garhwali cuisine comprising of mainly vegetarian fare like Dals, vegetables, rice, and chapatti. Local delicacies include Bal Mithai and Kachmauli.
Activities
Trekking, snow-scooter, skiing, rock climbing, and other adventure sports and winter sports. One thing is for sure, you won't regret it if you make Auli your next destination this winter.
Suggested Posts
10 Devi Temples in Uttarakhand
Best Places to Visit in Agra
Things to Do in Dwarka and Somnath
Things To Do In Darjeeling
Best Wildlife Experiences in Sri Lanka