Popularly known as "Devbhoomi", Uttarakhand is home to several sacred temples and Chardham Yatra is one of the most acclaimed divine Yatras in the state. One of the most happening pilgrimages of Hindus, Chardham Yatra attracts a huge influx of devotees coming from different parts of the world to get enlightenment.
These four holy shrines also mark the religious spot of four holy rivers namely River Ganga, River Yamuna, River Mandakini (Kedarnath), and River Alaknanda (Badrinath). Besides these four shrines, there are many other religious sites and travel destinations to explore on the trip, and our meticulously designed Chardham yatra package play a key role in making this journey a complete success and hassle-free.
What Makes Chardham Yatra So Significant and Immensely Popular in Hinduism?
This yatra happens to be one of the most sacred pilgrimages where almost every Hindu devotee wants to embark at least once in his/her lifetime. There lies an unflinching faith in Hinduism that one who completes this arduous journey attains liberation from the cycle of birth and death and gets blessed with lifelong prosperity and wealth.
As per Hinduism, going on a Teerth yatra is one of the most important duties of Hindus along with worship, dharma, participation in religious festivals, and Sanskaras. It is believed that covering the holy sites is a way to check the dedication, humility, and faith of a person. Especially when you are visiting the pilgrimages that are established in insane locations and it is difficult to leave your problems behind and concentrate on Puja rituals by forgetting everything except god.
What Exactly Do You Attain?
Salvation or moksha by touching the feet of the deities and completing the puja rituals with faith.
Liberation from the cycle of birth and death.
Taking a dip into the holy rivers and hot water springs wash all your sins away and fill your soul with positivity and goodness.
You also get to enjoy certain adventure activities like covering the challenging trekking trails and reaching the shrines like Kedarnath.
Opening and Closing Dates
There is no specific date and every year the dates for opening and closing the doors of the temples are declared on certain occasions. For Badrinath Dham, the date is decided on the auspicious occasion of Basant Panchami, Kedarnath's opening date is declared on Maha Shivratri, and Gangotri and Yamunotri Dham opening dates are decided on the grand ceremony of Akshaya Tritiya.
| | | |
| --- | --- | --- |
| Temples | Opening Dates | Closing Dates |
| Kedarnath | 6th May | 26th October |
| Badrinath | 8th May at 4:15 a.m. | 20th November |
| Gangotri | 3rd May | 20th November |
| Yamunotri | 3rd May | 25th October |
Best Time to Plan Your Trip
As you are covering an annual pilgrimage that is open for only six months i.e. from May to November and millions of devotees come to seek the blessings of the deities at the same time. The destinations being elevated at huge altitudes witness inconsistent climatic conditions therefore, every traveler must check the weather updates and plan their trip accordingly.
May and June and then September to the first week of November are believed to be the peak season for covering this spiritual yatra as the weather is quite pleasing and favorable during these months. One should definitely avoid monsoon months means July and August to explore these holy sites as the areas are very much prone to landslides due to heavy rainfall which then results in the blockage of roads.
With the onset of the winter months, the regions start receiving snowfall and the temperature starts lowering down that making the climate cold. The temperature sometimes reaches a sub-zero level at these places and thick sheets of snow cover the entire valleys. The idols are shifted to other religious places that are established at lower altitudes during the winter season.
Places Falling En-Route
Chardham Yatra in Uttarakhand is one of the best travel plans that lets you enjoy several unique experiences. The journey is not only about attaining spirituality but also you get to enjoy witnessing the incredible beauty of scenic sites and showing your trekking skills by covering the challenging trails. In simple words, we can say that it is a complete package of fun, spirituality, excitement, and thrill.
Kedarnath Dham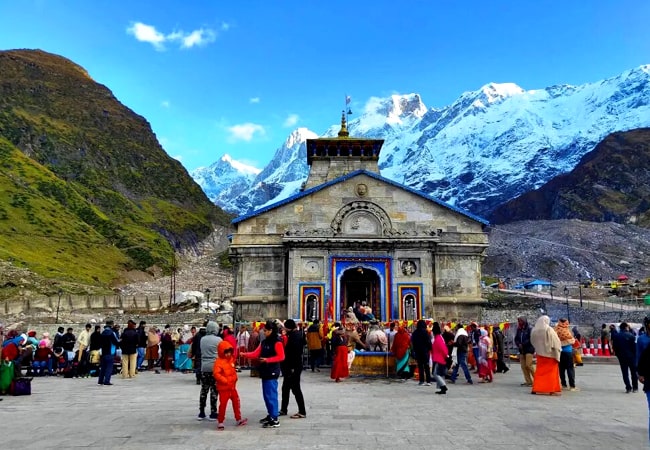 One of the prime destinations of Shiva worshippers, Kedarnath Temple sees a huge influx of devotees thronging from all across the globe to seek the blessings of the supreme deity of Hindus. Backed by the majestic Himalayan peaks, the pilgrimage is nestled at a great elevation of almost 3584 meters above sea level and hence is pretty difficult to be explored by a physically unwell person.
The mythological significance of the site is associated with Mahabharata, the second holiest epic of Hindus. According to the epic, Pandavas were once very much burdened with the guilt of killing their own uncle, and to absolve their committed sins they wanted to plead with Lord Shiva. Unfortunately, the deity was in much angry that he didn't want to forgive them so easily.
He disguised himself as a bull so that Pandavas don't recognize him but one of them recognized the god and tried to chase him and then Lord Shiva submerged into the earth and the Pandava brother could get hold of the only hump. Since then the deity has been worshipped inside the temple as a stone hump.
Significance of Kedarnath Dham
This ancient temple has one of the most dramatic locations of the Hindu temples and is established closer to the gorgeous Chorabari Glacier from where River Mandakini originates.
Kedarnath is one of the most significant jyotirlingas among the 12 magnificent ones.
It is also an important part of Panch Kedar Yatra that attracts a huge number of devotees from everywhere around the world.
Badrinath Dham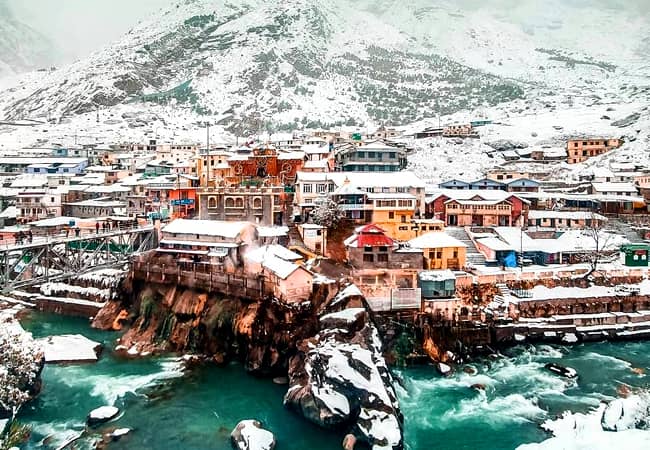 An eminent destination of Vishnu followers, Badrinath Dham is established at a great elevation of almost 3100 meters above sea level and is tucked beautifully amidst Nar and Narayan mountain ranges. The temple has a captivating setting at the backdrop of the snow-capped and pyramid-shaped Nilkantha peak, devoted to Lord Badri (an incarnation of Vishnu).
Badrinath Dham is one of the most conveniently accessible temples established by the great Hindu philosopher, Guru Adi Shankaracharya. The structure has been destroyed many a time and got renovated over a period of time. According to Hindu mythology, Lord Vishnu once performed a deep penance to plead with Lord Shiva. To save his spouse Goddess Lakshmi disguised herself as a tree and provided proper shade and protection to him.
Significance of Badrinath Dham
Badrinath is believed to be one of the most significant Divya Desams among 108 other incarnations of Lord Vishnu, one of the supreme deities of Hindus.
Being an important part of Panch Badri, it holds a huge place in Hinduism that attracts tourists from all across the country.
Badrinath is a part of both Char Dham in India as well as Char Dham in Uttarakhand and this makes it more significant.
Yamunotri Dham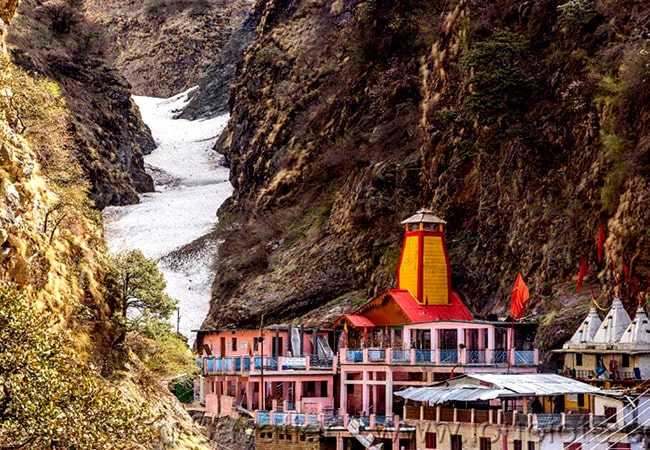 Established in the 19th century, Yamunotri Dham is one of the most prominent destinations of Goddess Yamuna. Established closer to the pious River Yamuna, the temple is nestled at a great altitude of almost 10,803 feet above sea level in the Garhwal Himalayas. There are numerous thermal water springs established near the pilgrimage where pilgrims take holy baths.
This ancient pilgrimage is enclosed by thick dense forests, lush green valleys, sprawling rivers, and several other magnificent temples. Dedicated to River Yamuna, the temple boasts a gorgeous black marble idol inside the temple.
Significance of Yamunotri Dham
Originating point of River Yamuna, the second holiest waterbodies are located closer to the Bandarpunch Peaks.
The destination is bestowed with several other religious sites including Surya Kund, Divya Shila, Saptarishi Kund Lake, and Hanuman Chatti.
Gangotri Dham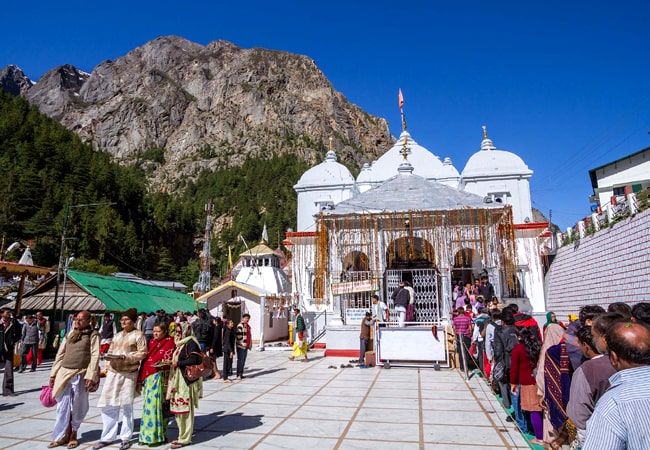 One of the holiest temples in India, Gangotri Dham is quite popular for being a source of the most pious rivers in the country. As per Hindu mythology, the rock on the site served as a cushion to protect the earth from havoc. The temple is believed to have been constructed in the 18th century by General Amar Singh Thapa, a great Gorkha commander.
Lying on the shores of River Bhagirathi, Gangotri Dham holds a huge place in Hinduism and welcomes a huge influx of devotees every year. There is an unflinching faith among Hindus that taking a dip into the holy water of this river washes their sins away and blesses them with positivity and purity.
Significance of Gangotri Dham
According to Hindu mythology, River Ganges was born out of a gift offered by Lord Shiva to King Bhagirath for his tireless meditation and penance.
It happens to be the place where River Ganga landed on the earth for the very first time and this makes it immensely significant on spiritual terms.
Some lesser-known facts about Chardham Yatra
The yatra happens to be the "Parikrama" of the four magnificent Hindu shrines.
The holy pedestals of this spiritual journey represent the "Three Major Sectarians".
The original temple Lord Badri was established in the gorgeous Garud caves.
Jalmagna Shivlinga is a natural rock located closer to Gangotri Dham and it can only be seen during the winter months.
When you walk towards Swargarohini, you get to see a Shivlinga established at the place where Yudhishthira's finger fell down.
Gauri Kund is the same place where Goddess Parvati and Lord Shiva tied the knots and their son Lord Ganesha got his new head.
When the country was under the control of Great Ashoka, Badrinath Dham was worshipped as a Buddhist site.
Bhavishya Badri is considered to be the worshipping place of Lord Kedar and Badri in the future.
The water of Tapt Kund believes to hold water having medicinal properties in curing skin diseases.
According to the locals and mythology, Narad Kund is the recovery source of the idol of Badrinath Temple.
Devotees are strictly advised not to blow conch/shankh inside the huge sanctum of the Badrinath Temple.
Traveling Tips for Chardham Yatra
You need to make an appropriate note on the below-stated points to make your journey more exciting and completely hassle-free.
Maintain the decorum and discipline of the holy sites and avoid consuming alcohol and non-vegetarian foods. Also, try carrying decent clothes when you enter the premises of the pilgrimages.
Do not forget to carry seal-packed water bottles to stay hydrated and also carry snacks to keep yourself full of energy.
You are not allowed to click pictures everywhere on the journey, hence you need to be disciplined and don't break the rules. Also, you are advised to keep your camera, batteries, and mobile phone always charged or else you will miss several moments to capture the beauty.
Those who are planning their trip between September and October then you are strictly advised to carry enough woolens to stay fit and fine throughout the journey.
Almost all the hotels and resorts are occupied during the peak season hence, travelers are advised to opt for advance booking.
However, the shrines are open from the last week of April to the first week of November yet you should avoid planning your Chardham Yatra in the monsoon months as the climate is not favorable during these months.
Traveling Tips for Char Dham Yatra by Helicopter
During ancient times the Char Dham Yatra was a life-challenging pilgrimage. Not anymore. With the introduction of the Helicopter Package for Chardham Yatra, getting to the holy shrines of Kedarnath, Badrinath, Gangotri, and Yamunotri has now become easier than ever. Fly across the scenic and breathtaking Garhwal valley and get a bird's eye view of the stunning Himalayan beauty beneath your feet.
Here are a few traveling tips for Chardham Yatra by Helicopter that will make your journey to the abode of the gods and goddesses comfortable and memorable:
Always Be On Time – The helicopter and the crew don't wait for anyone. So make sure to be at least 1 hour earlier than the written time of departure.
Pack Wisely – Often overlooked, this aspect of traveling on a chopper is very important. Helicopter service does not allow heavy luggage or baggage over 5 kgs of weight.
Keep An Eye On The Weather – Weather conditions can easily impact the functioning of your chopper service. Be sure to book your helicopter package during the right season.
Take Your Medications – Since you will be going on a long helicopter ride, make sure to take the appropriate medication in case you have motion sickness or vertigo.
Carry All Documents – Make sure to carry all the legit documents safely along with you. These documents may need to be shown to the officials in some case or other.
These have to be 4 of the most important tips to keep in mind while traveling to Char Dham by helicopter.
Frequently Asked Questions
There are several questions that run in the minds of almost every devotee who is embarking on this auspicious journey. A few of the most common questions are enlisted below along with nicely explained answers.
Q. When does Chardham Yatra begin?
Ans- There are no specific opening dates of the yatra and it completely depends on certain special occasions like the opening dates of Badrinath Dham is declared on Basant Panchami, Kedarnath opening date is decided on Maha Shivratri and the opening dates for Gangotri and Yamunotri Dham is decided on the auspicious occasion of Akshaya Tritiya.
Q. How good is internet connectivity there?
Ans- You might face difficulty connecting with your dear ones while covering this divine yatra, hence we advise you to opt for either BSNL or Airtel network to stay connected with your family and friends.
Q. Is it safe to explore Char Dham sites during the monsoon months?
Ans- The destinations of the circuit are hugely prone to landslides and blockage of roads as they receive huge rainfall during the monsoon months.
Q. Is it safe for a woman to complete this journey all alone?
Ans- Absolutely! It is very safe for a woman traveler to plan their journey all alone.
Q. Is there any medical certification needed to submit before yatra?
Ans- All the four holy shrines are established in extreme locations and it is very difficult and challenging for a traveler to complete this journey especially if you are not physically fit. Therefore, all the devotees are needed to visit a doctor and get properly checked, and then submit their medical certificates for this spiritual yatra.
Q. Are we allowed to consume alcohol on the premises of the pilgrimages of the circuit?
Ans- It is ethically not at all recommended to consume alcohol or carry tobacco inside the premises of the shrines. You all are requested to maintain the sanctity and decorum of the religious sites.
Q. Are we allowed to touch the feet of the idols of the holy pedestals?
Ans- Yes, you are allowed to take the blessings of the idols by touching their feet but it is not possible for you to touch the statues during the peak season.
Q. How much do we need to pay for VIP Darshan at the temples?
Ans- Those who are looking for an opportunity to save their time and energy by opting for a VIP Darshan pass. This pass costs you around INR 6500.
Q. Are there any government houses established in Kedarnath, Badrinath, Yamunotri, and Gangotri?
Ans- Yes, there are several GMVN houses established in and around Kedarnath, Badrinath, Yamunotri, and Gangotri.